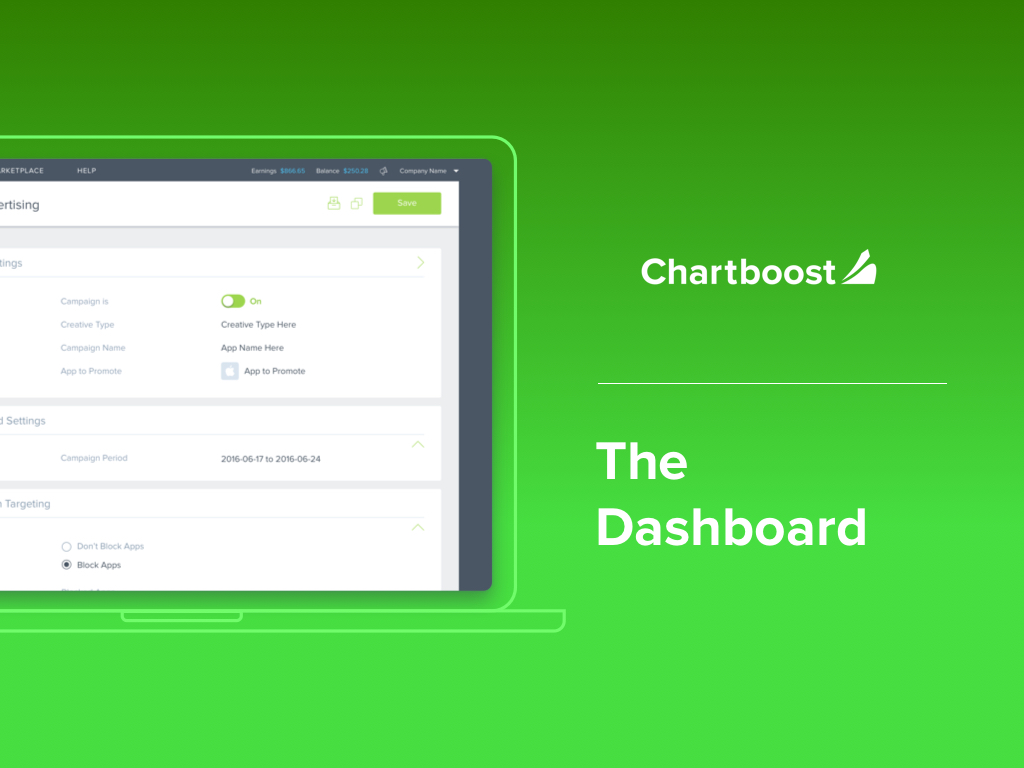 Chartboost Dashboard
The Dashboard is used by mobile game advertisers and publishers to manage their campaigns and gain insights on their performance.
Intro
The Campaign Overview (subject of this case study) is a page of the Dashboard that allows users to see all their current campaign statuses and performance. Should the user have no campaigns, they would see an empty state (image below).

In an effort to make the Dashboard more intuitive for first-time users, I proposed to the PM a more (first-time) user friendly version of the empty Campaign Overview page.
This case study will explore the redesign process.
Step 1: Improve Sidebar Clarity
Firstly my goal was to reduce confusion around publishing and advertising campaigns. In the flawed layout, in the sidebar the campaigns were split by:
Type (publishing and advertising)
Status (archived)
This was a confusing mixed categorization.
Thus I decided to organize all subcategories of the Campaigns category based on status: active and archived.
As a result, advertising and publishing campaigns were merged into one.
Another small improvement: I revealed the total number of campaigns in each sub-category, this way the user has more insight without needing to click into the section.
In an effort to reduce confusion, I decided to tackle copy too.
The original design was very text heavy, counting +300 characters in one paragraph, while describing all the campaign types and objectives.
There was no hierarchy or visual differentiation, resulting in a wall of text. I chose to address this.
Unclear Action
The flawed design presented the user with a single generic call to action to create a campaign, although Chartboost provides users with a choice of three campaign types (Network Campaign, Direct Deals and Cross Promotion).
These three campaign types would initially be hidden from the user unless the call to action were clicked to then reveal a modal (see image).
The modal was confusing and provided no insight into each campaign type's objectives and details (see image).
Why would a first time user choose one campaign type rather than another? I decided this step was confusing and should be removed.
Step 3: Information Hierarchy
Both copy and design would be crucial in crafting a well laid out, clear, and most of all actionable page.
To reduce friction and increase clarity for first time users, I chose to redefine the information hierarchy by reserving the upper portion of the page to a simplified campaign creator (accessible via a card).
Each card would contain actionable information:
Visual of campaign objective (illustration)
Campaign objective (heading)
Detailed description of the campaign, and what is achieved with each (sub heading)
Call to action
For those users that had more knowledge of advertising and the product itself, I maintained a more granular section at the bottom of the page.
Step 4: Simplify Campaign Creation
I decided to provide first time users with a quick way of creating campaigns aside from the "traditional" flow in which the user would need basic knowledge of the campaign type they'd like to create.

Users could create simplified campaigns through the two cards at the top of the page.
Simplified campaigns would require:
Less time to create (on average 5x faster)
Little product and advertising knowledge
This is achieved by showing the user strictly the fields that need their immediate attention in the successful activation of a campaign (for example: app to advertise).
I eventually settled on adopting modals instead. The user could create campaigns directly from the modals instead of being directed to the cumbersome campaign editor (the traditional campaign creator).
For comparison, below is a portion of a regular advertising campaign, followed by a simplified campaign.
It is apparent how simplified campaigns are more digestible while still being highly actionable.
Illustrations used for the quick campaign cards.
Design Proposals
Before nailing the final design, I played around with various layouts. Below are a few.
Proposal 1
In lieu of company-wide quarterly goals, this design favours the creation of video publishing campaigns (top left card).
It also nudges users into upgrading to the latest SDK (card to right).
Proposal 2
This design nudges users into creating video publishing campaigns, thus the earnings stat at the top left is used to inform users of what they could be missing out on by not creating these campaign types.
Proposal 3
In this design, campaign types are grouped by user type (publisher to the left, advertiser to the right).
Each campaign type provides insightful details and a call to action.
The top two cards have a bolder call to action as they are the most common and revenue driving campaign types.